GOOD LIFE PHARMACY POLICY REGARDING MEDICATION PICKUP
Due to the severity of the circumstances unfolding with Coronavirus and cases reported in Nebraska, Good Life Pharmacies (Ord, Albion and Loup City) are taking extra steps to prioritize our patient's safety. We are especially concerned with minimizing exposure to our high-risk patients, such as elderly and immunocompromised patients, who have to this point been the most severely impacted by the effects of the virus.
We wipe and clean our counters, cash register and front door every 30 minutes. We are asking all of our patients who are experiencing cough, sore throat, fever and/or other flu-like symptoms please do not come inside the pharmacy. We will be putting barriers in place in the next few days to limit exposure in our pharmacies. We encourage all patients to utilize our mail service, local delivery services and 'new curb-side' services. With curb-side services- upon your phone call our staff will bring out your prepared medications and over-the-counter items to your parking space at the pharmacy. Please provide payment information when calling if you would like to utilize these services to expedite processing. We also recommend patients fill a 90 day supply on medications, if your insurance allows, and talk with us about synchronizing all medications to help reduce unnecessary trips to the pharmacy. If you need counseling on any medications or over-the-counter items our pharmacist will gladly help those in need over the phone.
Please remember that we have a number of patients who are on immunosuppressant drugs, undergoing chemotherapy, and suffer from autoimmune disorders – everyone's cooperation is much appreciated and is vital to help protect the safety of all.
COMPOUNDED HAND SANITIZER AVAILABLE AT GOOD LIFE PHARMACY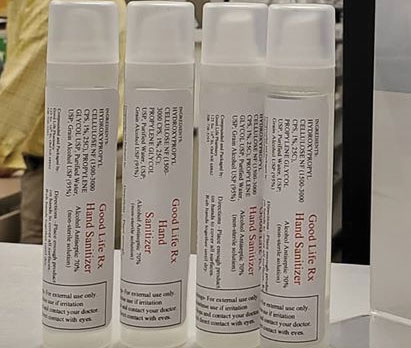 The FDA has released a policy to allow compounding pharmacist to prepare Alcohol-based Hand Sanitizer products during the Covid-19 pandemic. We have this available at all our Good Life Pharmacy locations. We will also mail the hand-sanitizer out. Please call us if you would like some. We have a limit of two – 2 oz pump containers per order. We also have this available in bulk (500ml) containers for health care clinics and hospitals.